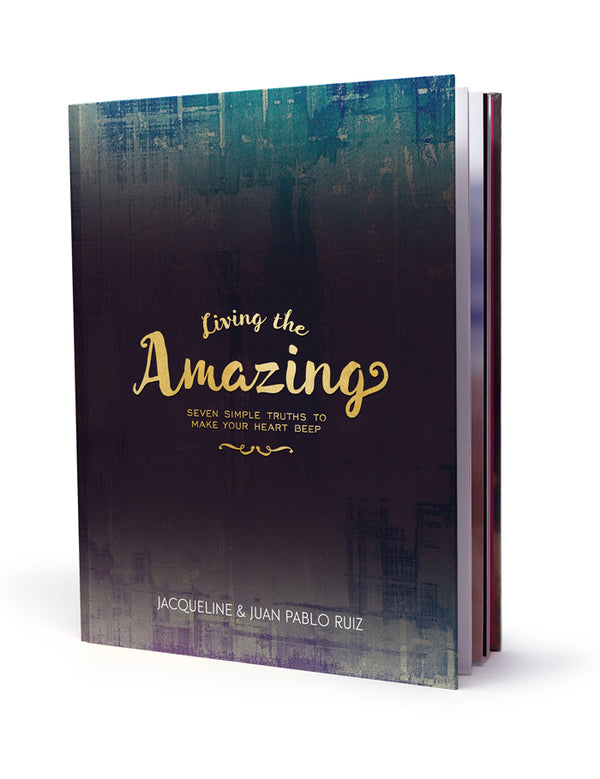 Living the Amazing - Seven Simple Truths to Make Your Heart Beep
What if every day felt like the best day of your life?
What if challenges, pain and uncertainty were replaced with ease, joy and confidence? Living the Amazing is a simple, inspiring guide to living an amazing life.
Many books talk about happiness. Most are authored by those with doctorate degrees, piles of research, and good intentions. Living the Amazing is rooted in everyday life. Readers will discover seven powerful principles through an interactive reader experience that intermingles prose with sumptuous design.
A few pages in, you begin to discover the truth: Your life is amazing right now.
The Ruiz' love affair led the couple to build an amazing life – after many setbacks and false starts. In Living the Amazing, they share their story of immigrating to the United States, creating a successful business and exploring what an amazing life looks and feels like – from both a male and female perspective. Each chapter offers a buffet of short, easy-to-read selections. Enjoy real stories of love, loss and life; tips simple yet profound; and art for the eye and heart to feast on.
AMAZING REVIEWS
If there was a 10 star rating I would give it to the "Living The Amazing" book. The seven simple truths in "Living The Amazing" touches many levels of beauty, grace, gratitude, while sharing relatable and teachable moments. My main take away is that every one of us is worthy of living a joyful, loving life!

Amazon Review
This book is a feast for the eyes and mind. Beautiful to look at with page after page of motivational, thought-provoking inspiration, enough to get you thinking and turn up the volume on your enthusiasm for life. But it's also a great testimonial to the teamwork of marriage, getting on the same page, and a great "coffee table" book for any couple working together to reach their dreams, like the authors of the book!

Amazon Review
This is one of the most inspiring books I have read. The book is full of passion, integrity, work from both authors. I am certain that anyone that reads this book would find it inspiring and uplifting. Kudos to both authors. The title of the book is the perfect word to describe both of them.

Amazon Review